This 1966 Yamaha 250 Catalina has gone to a new home.

This is the flat pipe version of the famous Big Bear Scrambler of the mid 1960's and with developments from the TD-1 racing machines. Winners of the 1964 250 World Championship.

At the time Yamaha was pioneering in its use of their patented direct Oil Injection System (autolube).

When new, these machines reported 27 HP @ 7500 RPM with a top speed of 90 – 100 mph.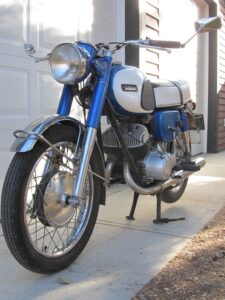 This machine has had a full revival featuring:
Complete, professional engine rebuild
New rings
New bearings
New seals
New clutch plates
Carb Replacement and Rebuilding
New brake shoes
Replaced and repainted Oil Reservoir
Sealed and repainted Gas Tank
New tires
New air cleaner hoses
Rebuilt speedometer
New speedometer cable
New clutch cable
New headlight and instrument bulbs
New steering lock and ignition keys
Vintage license plate

This 2 stroke machine is easy to start and fun to ride. It favours quiet roads over the main highways in keeping with the road network into which it was born.

Savour the unique sound of the Yamaha "wail" as you crank on the power.

Turns heads as you ride down the road on this little beauty.