This is a story about the "Barn Find" 1932 BSA Blue Star

The year was 1979 and the place was southern Ontario just northeast of Toronto.
The machine was in terrible condition having been, literally, placed in a barn by some previous owner on return from Nova Scotia at the end of the Second World War. Really!! It still had the 1945 Nova Scotia license plate attached.
There was rust everywhere. The main seat had perished and the pillion was gone. The silencers were gone. The tires were original and actually held enough air to get the bike loaded onto my snowmobile trailer.
This Blue Star is a twin exhaust port 500cc single with exposed valve gear, magneto ignition and a generator for charging the Varley battery. 1932 makes it the first year of production and apparently also came as a 350cc model.
To my amazement now, it was remarkably complete. I look back at old pictures and see an intact headlight lens, top of the tank instrument cluster inclusive of the little "trouble" light on its own extension cord. The tank didn't even have any pinhole leaks.
The project took three years with help from a visit to the UK for spares and the acquaintance with a guy named Bernie Nicholson who had just moved to Calgary to play a little tennis and wind down his motorcycle business.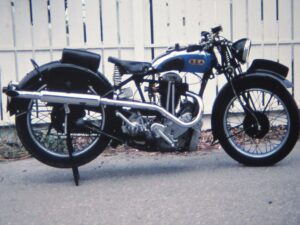 The UK trip was fun as we traveled from shop to shop picking up the spares which I knew would be needed. I remember pickup up a new exhaust system from Armours. Purchasing a cheap suitcase to house it on the way home, then explaining what was in the case to a Customs Agent on return to Canada.
Over the three years, every part was removed, cleaned and hand painted before being replaced on the bike. Wheels were stripped and rebuilt with new spokes. A work colleague had built me a wheel jig for that job. Essentially it was an adjustable platform where I could put the hub and rim flat, at whatever offset was necessary before re-lacing the spokes.
I had never ridden a "hard tail" so you can imagine my reaction when the maiden voyage along Glemnore Trail near the Deerfoot saw my rear wheel airbourne.
It wasn't long thereafter that it was time to move on to another project and the Blue Star was sold to a collector from the west coast.
Who knows where it is now but I'd like to think that it looks as good now as it did 39 years ago.